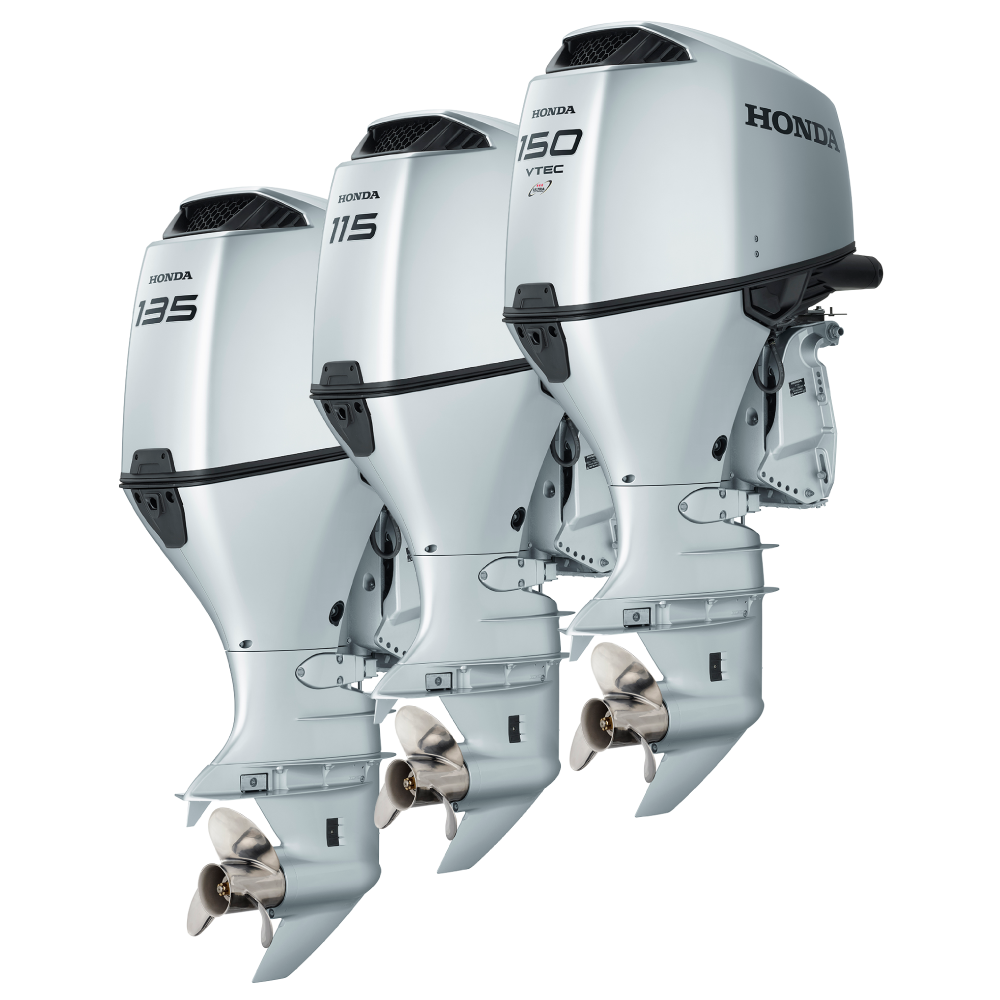 Take the joy of boating to the next level with the new BF115 – 150 series. We've reengineered and redesigned the 115-150 and added upgrades and improvements that boost performance. The redesigned, reengineered Honda BF115, BF135, and BF150 deliver everything you want – and more.
the BF115, BF135, and BF150 all feature sleek, aerodynamic styling for a bold, new look. But good looks are just the beginning. All three outboards are now available with Honda's Intelligent Shift and Throttle (iST®) drive-by-wire system, for superb control and power.
Repositioned anodes and a new bolt coating boost corrosion resistance. The redesigned cowl provides easier spark plug access. Other redesigned and repositioned components include the trim and tilt unit, water separator, fuel filters, and an enlarged dipstick tube. Combined with enhanced diagnostic codes, these changes make maintenance easier than ever, and significantly reduce maintenance time.
POWER WHERE AND WHEN YOU NEED IT.
Honda's exclusive VTEC technology offers a superior combination of power, torque, and fuel economy. (150hp)
DUAL OVERHEAD CAM (DOHC)
The 24-valve DOHC configuration offers increased high-rpm power.
DUAL STAGE INDUCTION
Dual Stage Induction maximizes air input for combustion. (150hp)
INSTANT ACCELERATION
Honda's exclusive BLAST system improves acceleration at low speeds. The result? Instant acceleration and improved hole shot.
ENGINE COMMAND MODULE
The ECM receives constant input from 18 different sensors to deliver instant starts, smooth operation, strong performance and excellent fuel efficiency.
BEST IN CLASS FUEL EFFICIENCY
Lean Burn Control increases fuel efficiency by allowing combustion to operate on a leaner air/fuel mixture. At cruising speed, this engine runs on up to 20% less fuel* than others in its class..
PGM-FI
Multi-port Programmed Fuel Injection adds both easy starts and improved fuel efficiency – without sacrificing performance.
3-WAY COOLING SYSTEM
Three separate cooling systems keep the cylinder heads running cooler for long-term durability.
HONDA QUALITY
Our outboards share many technologies and components used in Honda vehicles, with all the benefits of years of proven Honda engineering, precision manufacturing and reliability.
ENGINE ALERT SYSTEM
The Engine Alert System uses visual, audio and RPM reduction circuits to alert the operator of over-heating, low oil PSI and over-revving.
TOUGH CORROSION RESISTANCE
Honda's exclusive 4-Front Corrosion Protection System offers a patented, double-sealed multi-layered paint process.
Fresh water flushport flushes debris and saltwater out of the engine.
SIMPLE, EFFORTLESS CONTROL
Honda's exclusive Intelligent Shift and Throttle (iST) command and control system delivers superb control plus plug-and-play installation of Honda Marine products and third-party controls and devices.
iST offers multi-engine applications, with fine tuning of throttle settings at any speed, enhanced docking and slow speed control, and a simple, easy to understand user interface. Available on select BF115, 135, and 150 models.
For dual outboards, integration with Dometic's Optimus 360 joystick steering system makes maneuvering so much easier. Dometic's SeaWays keeps you headed in right direction and SeaStation's virtual anchoring system keeps you positioned over wrecks in hundreds of feet of water.
SIMPLIFIED MAINTENANCE
The little things make a big difference. The BF115, 135, and 150 are designed to reduce maintenance time for routine tasks like oil and filter changes.
ON-BOARD CONNECTIVITY
NMEA 2000 protocols allow engine data to be interfaced with on-board systems and systems displays, such as SONAR or GPS.
FISHERMAN FRIENDLY VARIABLE SPEED TROLLING
A variable speed trolling switch makes fishing easy and convenient. Simply push the toggle switch to adjust the trolling speed in 50 RPM increments from 650 RPM to 1000 RPM.
SUPERIOR BATTERY CHARGING FOR MORE USABLE POWER
The charging system offers an impressive 55 total amps with 40 amps of charging power for plenty of accessories.
| | | | |
| --- | --- | --- | --- |
| ENGINE | BF115 | BF135 | BF150 |
| Type | 4-Stroke DOHC 4 cylinder/16 Valves | 4-Stroke DOHC 4 Cylinder/16 Valves | 4-Stroke SOHC 4 Cylinder/16 Valves |
| Displacement | 2354cc (144 cubic ins.) | 2,354 cc (144 cubic inches) | 1,496 cc (91.4 cubic inches) |
| Bore & Stroke | 87 x 99 mm (3.43 x 3.9 ins.) | 87 mm x 99 mm (3.4 x 3.9 inches) | 73 mm x 89.4 mm (3.0 x 3.5 inches) |
| Full Throttle RPM Range | 4500-6000RPM | 5,000-6,000 RPM | 5,000-6,300 RPM |
| Rated Power | 115 HP @ 5250 RPM | 135 HP @ 5,500 RPM | 100 HP @ 5,900 RPM |
| Cooling System | Water Cooled | Water Cooled | Water Cooled |
| Fuel Delivery | Programmed Fuel Injection | Programmed Fuel Injection | Programmed Fuel Injection |
| Ignition System | Micro Computer Programmed | Micro Computer Programmed | Micro Computer Programmed |
| Starting System | Electric | Electric | Electric |
| Exhaust | Through Hub | Through Hub | Through Hub |
| Lubrication | Wet Sump | Wet Sump | Wet Sump |
| Trim Range | -4° to +16° | -4° to +16° | -4° to +16° |
| Tilt Range | 68° | 68° | 68° |
| | | | |
| --- | --- | --- | --- |
| DRIVE | BF115 | BF135 | BF150 |
| Gear Ratio | 2.14:1 | 2.14:1 | 2.14:1 |
| Gear Shift | F-N-R | F-N-R | F-N-R |
| | | | |
| --- | --- | --- | --- |
| EQUIPMENT | BF115 | BF135 | BF150 |
| Alternator (Electric Start) | 55 Amp Total | 55 Amp Total | 55 Amp Total |
| Battery Charging Power | 40 Amp | 40 Amp | 40 Amp |
| Propeller | Optional | Optional | Optional |
| Gas Assisted Tilt | NA | NA | NA |
| Power Tilt | NA | NA | NA |
| Power Trim & Tilt | Standard | Standard | Standard |
| Oil Pressure Alert | Standard | Standard | Standard |
| Temperature Alert | Standard | Standard | Standard |
| Rev-Limiter | Standard | Standard | Standard |
| Speedometer Pickup | Standard | Standard | Standard |
| | | | |
| --- | --- | --- | --- |
| DIMENSIONS | BF115 | BF135 | BF150 |
| Overall Width | 610mm/24 inches | 610mm/24 inches | 610mm/24 inches |
| | | | |
| --- | --- | --- | --- |
| TRANSOM HEIGHT | BF115 | BF135 | BF150 |
| L Type | 508 mm/20 inches | 508 mm/20 inches | 508 mm/20 inches |
| X Type | 635 mm/25 inches | 635 mm/25 inches | 635 mm/25 inches |
| | | | |
| --- | --- | --- | --- |
| DRY WEIGHT | BF115 | BF135 | BF150 |
| L-Type | 218 kg/480 lbs.(mech); 221kg/487lbs. (iST) | 218 kg/480 lbs.(mech); 221kg/487lbs. (iST) | 218 kg/480 lbs.(mech); 221kg/487lbs. (iST) |
| X-Type | 221 kg/487 lbs. (mech); 224kg/493 lbs. (iST) | 221 kg/487 lbs. (mech); 224kg/493 lbs. (iST) | 221 kg/487 lbs. (mech); 224kg/493 lbs. (iST) |
BABC-1000001 through 9999999
BAVJ-1000001 through 9999999
BABC-1000001 through 9999999