MORE QUALITY TIME ON THE WATER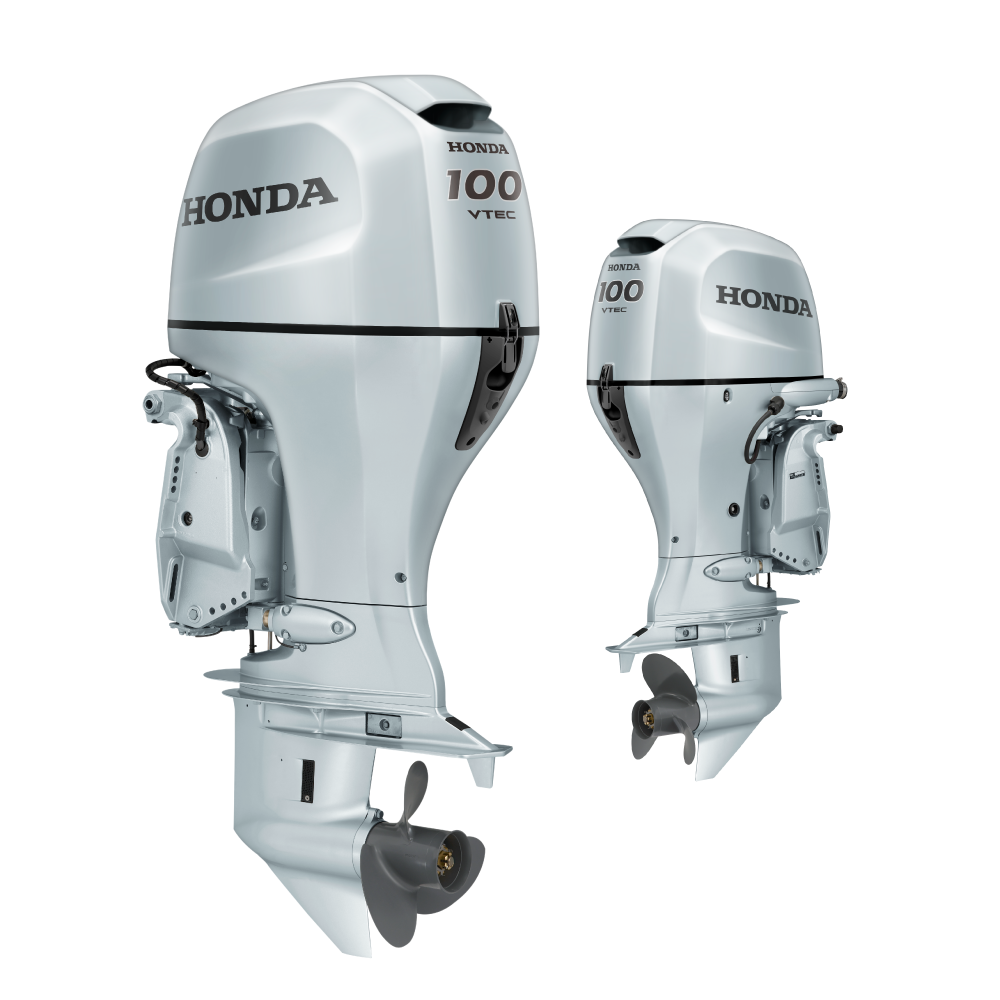 You're looking at Honda's most advanced technology – a lightweight powerhouse in a mid-range package. The BF100 offer a host of Honda legendary technological advancements and exclusives.
Starting with VTEC technology on the BF100. VTEC provides a superior blend of power, torque, and fuel efficiency at any speed. It's the same Honda exclusive feature used on Honda cars, a premium innovation put to good use on our outboards.

Add in Multi-port Electronic Fuel Injection, BLAST, Lean Burn Control, and a 3 Way Cooling system, and you've got a trio of motors that are economical, efficient, and durable – which means maximum quality time on the water for you.
INSTANT ACCELERATION
Provides thrust to propel you on to the plane by boosting torque from low speed rpm, improving hole shot performance.
SUPERIOR VTEC™ SYSTEM
Provides optimal performance at low and high revs by varying the opening and closing duration and lift of the inlet valves.
HIGH PERFORMANCE GEARCASE
Designed to get you going faster, the high performance gearcase reduces drag, greatly reduces hull porpoise and minimizes spray, increasing acceleration and top speed.
INSTANT ACCELERATION
Honda's exclusive BLAST system improves acceleration at low speeds. The result? Instant acceleration and improved hole shot.
BEST IN CLASS FUEL EFFICIENCY
Lean Burn Control increases fuel efficiency by allowing combustion to operate on a leaner air/fuel mixture. At cruising speed, this engine runs on up to 20% less fuel* than others in its class..
PGM-FI
Multi-port Programmed Fuel Injection adds both easy starts and improved fuel efficiency – without sacrificing performance.
3-WAY COOLING SYSTEM
Three separate cooling systems keep the cylinder heads running cooler for long-term durability.
HONDA QUALITY
Our outboards share many technologies and components used in Honda vehicles, with all the benefits of years of proven Honda engineering, precision manufacturing and reliability.
ENGINE ALERT SYSTEM
The Engine Alert System uses visual, audio and RPM reduction circuits to alert the operator of over-heating, low oil PSI and over-revving.
TOUGH CORROSION RESISTANCE
Honda's exclusive 4-Front Corrosion Protection System offers a patented, double-sealed multi-layered paint process.
Fresh water flushport flushes debris and saltwater out of the engine.
SIMPLIFIED MAINTENANCE
The little things make a big difference. The BF60 is designed to reduce maintenance time and cost for routine tasks like oil and filter changes and valve adjustments.
ON-BOARD CONNECTIVITY
NMEA 2000 protocols allow engine data to be interfaced with on-board systems and systems displays, such as SONAR or GPS.
OHIGH OUTPUT CHARGING FOR MORE USABLE POWER
The high output charging system features a 44 amp "On Demand" belt-driven alternator with 35 charging amps. This superior design reduces heat buildup and keeps battery banks charged all day, even when running multiple accessories.
| | |
| --- | --- |
| ENGINE | BF100 |
| Type | 4-Stroke SOHC 4 Cylinder/16 Valves |
| Displacement | 1,496 cc (91.4 cubic inches) |
| Bore & Stroke | 73 mm x 89.4 mm (3.0 x 3.5 inches) |
| Full Throttle RPM Range | 5,000-6,300 RPM |
| Rated Power | 100 HP @ 5,900 RPM |
| Cooling System | Water Cooled |
| Fuel Delivery | Programmed Fuel Injection |
| Ignition System | Micro Computer Programmed |
| Starting System | Electric |
| Exhaust | Through Hub |
| Lubrication | Wet Sump |
| Trim Range | -4° to +16° |
| Tilt Range | 68° |
| | |
| --- | --- |
| DRIVE | BF100 |
| Gear Ratio | 2.33:1 |
| Gear Shift | F-N-R |
| | |
| --- | --- |
| EQUIPMENT | BF100 |
| Alternator (Electric Start) | 44-Amp (126 watts) |
| Battery Charging Power | 35 Amp |
| Propeller | Optional |
| Gas Assisted Tilt | Available |
| Power Tilt | NA |
| Gas Assisted Tilt | NA |
| Power Trim & Tilt | Standard |
| Oil Pressure Alert | Standard |
| Temperature Alert | Standard |
| Rev-Limiter | Standard |
| Speedometer Pickup | Standard |
| | |
| --- | --- |
| DIMENSIONS | BF100 |
| Overall Width | 375 mm/14.8 inches |
| | |
| --- | --- |
| TRANSOM HEIGHT | BF100 |
| X Type | 635 mm/25 inches |
| | |
| --- | --- |
| DRY WEIGHT | BF100 |
| X-Type | 166 kg/365 lbs. |
BABC-1000001 through 9999999
BAVJ-1000001 through 9999999
BABC-1000001 through 9999999